STARTING PANEL (212) Q-MODEL MOFSET
The Q-Model type 212 universal starting panel is one of the most popular models of this type on the market.
It is equipped with all the necessary outputs needed for efficient and quick commissioning of the combustion model:
plug filament output (1.5V) with convenient amperage adjustment (large, sensitive knob on the potentiometer) and pointer indicator!
pump output (12 V) with the possibility of reversing the direction of operation (pressing / suction) and a convenient ON / OFF switch
starter output (12V)

For the convenience of work and trouble-free preparation of current connections, the set includes a set of 6 4mm banana plugs with respectively red and black plastic housings, as well as a pair of crocodile clamps to connect to a gel battery.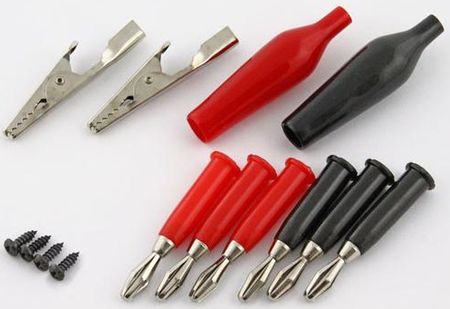 The panel is powered by 12V direct current (preferably a Pb 12V gel battery)
The standard dimensions of 152 x 91 mm of the panel ensure trouble-free installation in virtually any modeling box on the market (4 mounting screws in the package). The manufacturer has also included a very useful, light ABS molding that protects the bottom side of the panel against possible mechanical damage or splashing.
Modelers using the 212 panel particularly appreciate the very convenient adjustment of the amperage supplied to the candle, which is especially useful in unfavorable environmental conditions. Thanks to a clear indicator and a very sensitive adjustment on the soft-working knob, not only can you quickly and easily select the right intensity of the current supplied to the candle, but also reduce the possibility of burnout to an absolute minimum. In addition, the working pointer is also an indicator of the efficiency of the candle itself - so you do not need to install additional diodes and other indicators informing about the possible burnout of the candle installed in the engine head.
Manufacturer part number: 212